One of the most frequently used terms in the caring sector is 'Power of Attorney' (POA). This legal document plays an extremely vital role in the caregiving process as it allows an individual to act on another person's behalf.
Caring for a loved one is a major responsibility, which is why it is so important for carers to better prepare themselves for when POA is required.
If you're wondering what power of attorney means and what types are on offer, our expert team from My Care My Home have collected all the information you need to know when managing someone else's affairs. Keep reading to learn more about power of attorney, and how it can affect you.
What is Power of Attorney?
Power of Attorney is a legal document that provides an individual (the attorney) with the ability to act on another person's behalf (the donor).
The requirements for those responsible for another person can be varied, but often include tasks such as:
Managing financial and physical assets such as housing
Making purchases on their behalf
Choosing a suitable living environment
Deciding which care services are provided
Making decisions regarding physical and mental wellbeing
Types of Power of Attorney
There are three types of power of attorney in the UK, each including separate responsibilities and limitations:
Ordinary Power of Attorney (OPA)
Sometimes referred to as 'general power of attorney', an ordinary power of attorney is typically used for financial purposes under temporary periods of time, such as during hospitalisation.
OPAs are only valid while the donor has the mental capacity to make their own decisions.
Lasting Power of Attorney (LPA)
The second, and most common form of power of attorney, is lasting power of attorney.
LPAs differ slightly to OPAs in the sense that they can cover decisions about both financial endeavours, as well as physical and mental health.
LPAs are useful for elderly individuals that are likely to lose their mental capacity in the near future, and are considered to be a more permanent measure.
Enduring Power of Attorney (EPA)
Replaced by LPAs in 2007, an EPA offers similar aspects as an LPA except that it only needs to be registered once a donor loses mental capacity.
Which Type of Lasting Power of Attorney Do I Need?
As previously mentioned, a lasting power of attorney can make decisions on property and financial affairs, as well as physical and mental wellbeing, depending on the situation.
Property and Financial Affairs LPA
This provides an attorney with the ability to make decisions regarding a donor's money and property. It involves tasks such as:
Managing bank accounts
Paying bills
Receiving pensions and benefits
Making mortgage payments
Paying rent
Health and Welfare LPA
This type of LPA gives attorneys the power to make decisions about a donor's physical and mental health. A Health and Welfare LPA is especially useful for individuals who have a deteriorating mental illness such as dementia.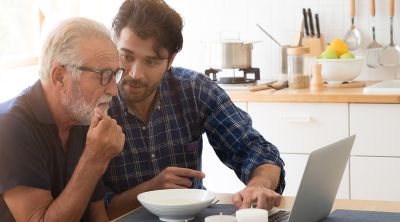 How Many Attorneys Can I Have?
Having more than one attorney is often advised for many reasons, for example, so there is someone to take charge should one attorney fall ill themselves. However, this does introduce extra considerations, particularly regarding how decisions are made:
Option 1: Joint Lasting Power of Attorney
In this scenario, all attorneys will be required to make a renowned decision on various actions. Although this ensures that all parties are involved, it can potentially introduce some delays to the decision-making process. This also requires that all attorneys are together in person for extended periods of time, which for some is unfeasible.
Option 2: Joint and Several Lasting Power of Attorney
This option allows attorneys to make decisions both independently and together as per their own judgement. While this approach can provide more versatility, it can reduce the amount of control that is held over decisions.
There is also the possibility of a hybrid approach between these two options. This can allow for certain types of decisions to be made unanimously and others to be made on an ad-hoc basis.
Who Can Be My Attorney?
The consequences for inappropriately handling the duties of power of attorney can range from substantial fines to up to five years in prison. Hence the importance of selecting the right person for the task.
Provided that they are over the age of 18 and are mentally capable, an attorney could be a friend, relative, a professional (such as a solicitor), or your spouse.
When choosing an attorney, it is important to select people that are trustworthy and dependable. Power of attorney is a major undertaking that should not be handled by anyone that is unfit. We recommend that you take as much time as possible with this decision, as undoing the procedure is an incredibly nuanced process.
Need Further Help?
If you need help setting up a Power of Attorney, My Care My Home can help. Our team of experienced care specialists can help ensure that your applications are written correctly and your needs are met. You can contact us by phone, email or chat to speak to a friendly adviser. We look forward to hearing from you.