Care homes offer excellent environments for looking after elderly people or vulnerable adults who cannot look after themselves. Not only are they run by caring experts with years of experience, but the teams will work with families in order to deliver the best service possible for your loved one.
Researching all of the types of care home can be an overwhelming task. To make this easier, we have compiled this list of all the types available in the UK. Join us as we explain the differences between them all to help you find the best one for your situation.
What is a Residential Care Home?
As its name implies, a care home is a facility in which elderly citizens or vulnerable adults can live in order to be provided with constant care by either nurses or trained carers.
Different care homes offer different services, but in general, the overall goal is to support people through their lives; whether that be through monitoring medication, preparing food, offering respite care, or simply by providing companionship throughout the day.
How Many Types of Care Home Are There?
In the UK, there are two main types of care home available. Although both differ slightly, they each share a common objective of improving day-to-day life.
Care Home
Sometimes referred to as assisted living residence or a residential care home, a traditional care home can house individuals or couples and provide assistance with hygiene, dressing, medication and many other aspects of daily life.
Nursing Home
A nursing home for the elderly and vulnerable adults is very similar to a care home except it is staffed by medically-trained nurses who focus on more difficult types of care.
Nursing homes are especially useful for patients that have greater medical demands, such as physical/learning disabilities, or complicated medical conditions like Parkinson's disease.
Specialised Care Homes
For slightly more complex scenarios, there are care homes that concentrate on different conditions in order to better suit a patient's niche requirements.
Dementia Care Homes
Due to the intricate issues that dementia patients face in their everyday lives, they may require assistance from a specific type of care home that specialises in looking after dementia sufferers.
Dementia care homes are tailored specifically for this purpose. For example, there will be additional barriers in place to ensure a sufferer does not leave the facility unaided, increased signposting to avoid residents getting lost within the building, or tailored offerings such as Twiddle Muffs.
Dual-Registered Care Homes
If a resident is likely to require the services of both traditional care homes and nursing homes, they may be more likely to be accepted into a dual-registered care home. This allows for issues to be dealt with gradually at the same location without moving back and forth. Perhaps simply moving to a different room or floor, should their needs change.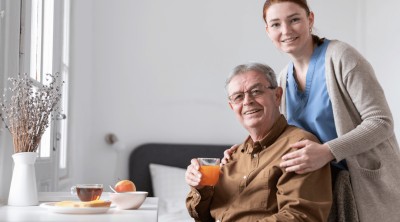 What Type of Care Home Do I Need?
Ultimately, the type of care home that is best for you is determined by your individual needs. The only way to truly figure out which one is required is by conducting a thorough care needs and or capacity assessment.
If you need help organising one of these assessments, My Care My Home can help. Our team of care specialists can guide you through the whole caring process, offering useful information and advice along the way to keep you prepared at all stages. Contact us and start your journey today.
Was this page helpful?
Thank you for your feedback.
How can we improve this page?